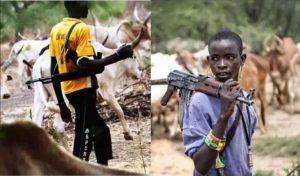 Gunmen suspected to be Fulani herdsmen have reportedly shot and killed a livestock guard in Makurdi, the Benue State capital.
According to a source, the incident happened on Friday around 6:00pm at Mballah close to NASME barracks in Makurdi.
Speaking to The Punch, the Commander of livestock guards, Linus Zaki, said that the suspected Fulani herdsmen had laid ambush when the livestock guards were on patrol.
"We (livestock guards) were coming on a motorcycle and suddenly we heard gunshots from both sides of the road and they succeeded in killing one of our guards and injured one other," he added.
Also confirming the incident, the Security Adviser to Governor Samuel Ortom, Lt. Col. Paul Hemba (retd.) said that the livestock guards who were on patrol were ambushed.
"There was an incident of an attack on members of livestock Guards' who went out on patrol in company with agro rangers to Mballah council wards close to NASME Barracks in Makurdi.
"They were ambushed by suspected herdsmen bandits who laid an ambush in the bush and suddenly opened fire on them killing one of them instantly and injuring the other one badly. He is currently receiving treatment," he said.