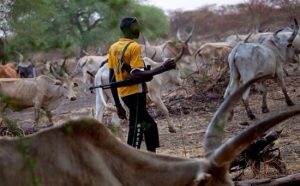 Miyetti Allah Cattle Breeders' Association (MACBAN) the umbrella body of Fulani herdsmen has given reasons why they are in the South-East.
Speaking to newsmen after a meeting of the joint executive council of the group in Enugu, Chairman of MACBAN in the zone, Alhaji Gidado Siddiki, said its interest in the region was purely economic and nothing more.
According to the Fulani herdsmen leader, the suspicion and speculation about the activities of herdsmen was unnecessary.
He maintained that herdsmen were not the harbingers of Fulani territorial expansionism.
"This suspicion is rooted in the speculation that herdsmen are harbingers of Fulani territorial expansionism," Siddiki said.
"However, the leadership of MACBAN, under my watch in the South-East, has continued to discuss appreciably well with the individual state governments in the zone.
"I am happy that the dialogue gives us hope for a better understanding between our members and their host communities."
The Miyetti Allah leader called on South-East governors to protect herders and their cattle, adding that herdsmen in the area would be made to take precautionary measures while plying their trade.
Siddiki said that MACBAN recognised that the challenges the herders were facing in the region were not peculiar to the zone, adding that there were bound to be conflicts between people of diverse cultural orientations.