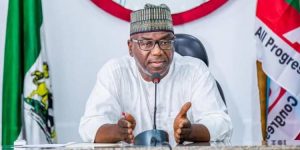 The Kwara State government on Friday, directed the temporary closure of some secondary schools in the state following the controversy generated over the use of hijab by some female students.
The affected schools, ten in number, and all located within the state capital, Ilorin are grant-aided schools, Naija News understands.
The schools are to be shut down pending the outcome of the findings by the committee set up to look into the matter as the schools allegedly shut out some hijab-wearing students on Friday.
This online news medium understands that some Muslim organizations want the female students of such schools to be allowed to wear hijabs but the move is being opposed by the affected schools as they are termed missionary schools though they've been taken over by the state government.
The schools are:
1. C&S College Sabo Oke
2. ST. Anthony College, Offa Road
3. ECWA School, Oja Iya
4. Surulere Baptist Secondary School
5. Bishop Smith Secondary School, Agba Dam
6. CAC Secondary School Asa Dam
7. St. Barnabas Secondary School Sabo Oke
8. St. John School Maraba
9. St. Williams Secondary School Taiwo Isale
10. St. James Secondary School Maraba
In a statement on Friday, the Permanent Secretary, Ministry of Education and Human Capital Development Mrs. Kemi Adeosun said that the "Kwara State Government has directed immediate temporary closure of some grant-aided schools in Ilorin, the state capital, pending resolution of the hijaab question in the schools."
After listing the schools, the statement added that "The closure comes as a government committee comprising representatives of the Muslim and Christian communities meets today to iron out the differences between the two communities."
"Further communication will be issued to inform members of the public on the development."
"Government calls for calm and urges parents and religious leaders to avoid actions or comments that may further split the two communities."
Earlier on Thursday, the State Deputy Governor, Kayode Alabi had presided over a meeting of the committee set up to look into the matter and recommend a decision on the way forward.
The committee includes representatives of the Christian and Muslim communities in the state, government officials, and other stakeholders.
Meanwhile, the Niger State Governor, Abubakar Bello, on Friday, said he would not resign from office following the abduction of students and staff of Government Science College, Kagara.
Bello stated this during a press conference while reacting to the call by the Nigeria Youth Movement to resign within 21 days.
Recall that the Nigeria Youth Movement in a statement released on Thursday through its Co-ordinator in the state, Yusuf Yakatun, charged the Governor to resign