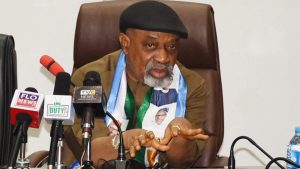 Minister of Labour and Productivity, Senator Chris Ngige, has revealed how the All Progressives Congress (APC) will capture Anambra State through "seen and unseen forces".
Ngige made the statement shortly after revalidating his membership of the party at Alor Ward 1, Idemili South Local Government Area of the State on Saturday.
He said Anambra APC is deploying all the "necessary forces" to make sure that the APC takes over the government by November.
The former Anambra governor said the APC registration and revalidation was designed to strengthen and fortify the party in the country, calling on the people of the state to key in.
"APC is going to use both seen and unseen forces to capture Anambra state by November. By this registration and revalidation, we are trying to fortify the party in the state.
"The seen forces are human beings and the unseen force is God, who is behind the APC," he said.
He called on the people to use the opportunity offered by the APC registration to register with the party, noting that the APC is a party to beat in Anambra.
According to Ngige, the registration is meant to hand over the party to the grassroots, without which, there is no party.
"Anambra people should come out and identify with APC. We want the party to be handed over to the people and that is the major reason we are doing this registration," he said.
The chairman of the APC registration and revalidation exercise, Senator Bello Turku, urged Anambra people to come out en masse to register with the party.
"Please, make sure that your registration will translate to winning the election by November. The bigger the merrier," he said.