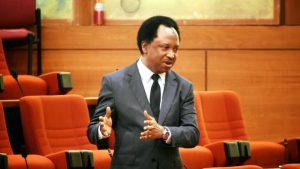 President Muhammadu Buhari has been called on by former lawmaker, Shehu Sani to organise a conference to be led by former Heads of States, Generals Yakubu Gowon and Abdulsalam Abubakar in a bid to end the security challenges in the north.
The former lawmaker noted that the way President Buhari can solve the crisis in the north is by inviting stakeholders from the region, and also set up a Presidential Committee to be led by the likes of General Martin Agwai, Col. Dangiwa Umar, Sen. Makarfi, among others.
Sani stated this in an interview with newsmen in Jos, the Plateau State capital.
He said, "There is the need for leaders like General Yakubu Gowon and General Abdulsalam Abubakar, to lead a conference in the North, that will bring all religious and political leaders together, traditional rulers, civil society and see how the likes of General Aliyu Gusau, can come together and see how our religious, ethnic and tribal issues in the North can be addressed."
"These stakeholders conference should resolve with a template on what we intend to achieve in the next 10 to 20 years", he explained.
"The resolution of such a conference should be institutionalised in all the States in Northern Nigeria."
I think this is very important", he maintained.
"This includes finding a solution to banditry and violence in the North-West, the Tiv-Jukun violence between Benue and Taraba States, the perennial crisis of religious violence in Plateau State, finding a solution to what is happening in Southern Kaduna, and addressing the minority issues and religious disharmony that exist between Muslims and Christians."
"I think there is nobody that is properly placed that should be empowered by all the 19 northern states and the Federal Government to lead a retreat or a conference of all northern leaders, irrespective of their political affiliation to find a solution to these problems, like Generals Gowon, Abubakar; Elder Paul Onongo, Lema Jibril and others can all come together and find a solution to these problems."
"We need to have a working document for peace, order, unity and end to our religious crisis and security challenges in northern Nigeria."
Speaking on the security challenges bedevilling Southern Kaduna, Sani who represented Kaduna Central in the Senate from 2015 to 2019, said, "the first thing the President needs to do is to give an audience to the people of Southern Kaduna."
"Invite their elders, political leaders, youths and women, selected from all the LGAs and communities in Southern Kaduna, and meet with Mr President, and listen to the problems of the area, and find a solution to it."
According to him, "The next thing the President needs to do about Southern Kaduna; is to set up a presidential committee of not more than 6 to 7 people, which will include people like Col. Dangiwa Umar, Lawal Jafaru Isah, Senator Makarfi, General Martin Agwai, and some few others who have been able to achieve a lot in terms of restoring peace and order in Southern Kaduna."
"A Presidential Committee comprising of these people would be able to give the president a realistic objective and fair assessment of practical steps that are needed to solve the problem."
"One of the reasons why the problem in Southern Kaduna cannot be solved is that the President only listens to the governor, and the governor and the people of Southern Kaduna are at par with each other."
"How can you solve that kind of problem? He asked."
"So, the names I have mentioned, I believe have ideas to contribute to the efforts that are aimed at finding a lasting solution to the problems of that region."
He, however, warned that "We should also not confuse the problem in Southern Kaduna; the killings in Southern Kaduna are perpetuated by bandits and terrorists, raiding villages, raping women, killing children, displacing people; is different from 3 to 4 decades of religious violence between Muslims and Christians, that should not be confused.
"Because what people are trying to do now, is to say the killings are reprisals or vendetta or revenge, they are not revenge", he stressed.
"No Muslim has killed a Christian, and no Christian is killing any Muslim for now. It is terrorists that are targeting the people of Southern Kaduna and killing them. So, people shouldn't bring what happened in the last 3 to 4 decades, and try to justify, a pure terrorists' activity in that part of the state. That is my own view on that."