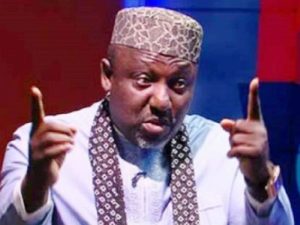 Former Governor of Imo State, Rochas Okorocha has revealed how he escaped from thugs and the state Government  House Police on Sunday.
Recall that Okorocha was arrested on Sunday for unsealing Royal Spring Palm Estate seized by the state government on Friday.
The former governor led his loyalists, aides, and security agents to break into the estate alleged to be owned by his wife, Nkechi.
Not long after forcefully gaining access into the property, operatives of the state Police Command arrived to escort the senator away.
As the scene unfolded, Okorocha's supporters clashed with those of Governor Hope Uzodinma, whom he has been at loggerheads with for a while.
Speaking during a recorded audio interview played on Channels TV, Okorocha accused the police of complicity, alleging that police officers watched on as thugs cut his "boys" with machetes during a clash.
The former governor said he managed to escape from the scene after his orderlies "rushed me to a room and locked me up".
He said: "I came back from an occasion and proceeded to Royal Palm Hotel to enquire what actually happened. On getting there, I saw a lot of thugs. They started molesting, cutting my boys, shooting. But the police were there too, and they did nothing and said nothing.
"They were macheting… my orderlies rushed me to a room and locked me up. Those boys had teargas, police also were throwing teargas. As they were advancing, the police were backing them up; and they were coming and were shooting.
"I enquired and they said it is the government house police. And I asked, is this with the directive of the IG or the CP? Can the governor actually use government house police to do what he is doing?
"They kept me in a room for some time and all my boys got injured. Right now, my in-law was shot and his legs have been scattered."