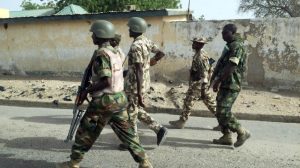 Additional facts have emerged of how troops of the Nigerian Army neutralized the dreaded Boko Haram insurgents and took back Marte Local Government of Borno State.
Naija News had reported earlier that the deadly insurgents had hoisted their flag in parts of Marte LGA.
The insurgents repeatedly attacked the local government last week and captured it.
Last Sunday, the Chief of Army Staff (COAS), Maj. Gen. Ibrahim Attahiru issued a 48-hour deadline for the troops of Operation Lafiya Dole to recapture Marte from Boko Haram terrorists.
The Nigerian Army in a statement by its spokesperson, Mohammed Yerima, had on Tuesday announced the recovery of the local government and other communities recently captured by the terrorists.
According to details obtained by PremiumTimes, troops of the 402 Special Forces Brigade, in conjunction with 22 Brigade of the Army, advanced to Marti Local Government at about 8 am on February 23.
Hours later, at about 2 pm, as the troops marched closer to Marte, the troops encountered no fewer than nine improvised explosive devices at the fringes of the town which were safely detonated by the detachment's Explosive Ordinance Devices team.
Sources said as the troops entered the town, the Boko Haram terrorists launched a vicious attack, shooting sporadically. But the Nigerian troops stood their ground and decisively repelled the offensive.
The exchange of gunfire lasted hours culminating in the killing of at least 19 terrorists, with several others fleeing with gunshot wounds.
As the terrorists fled, the soldiers erupted in songs of celebration.
Amongst items recovered from the terrorists were seven AK 47 rifles, two anti-aircraft guns mounted on Hilux vans. Two gun trucks belonging to the Boko Haram sect were also destroyed in the battle.
"The general security situation in Marte and environs is now calm but fluid," a military insider said. "Troops morale and fighting efficiency remain satisfactory."