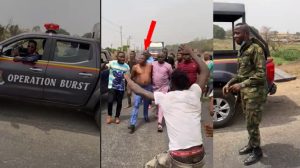 The spokesperson of the New Era faction of the Odua People's Congress, Akinpelu Adesina, has condemned the attempt by security agencies to arrest Yoruba activist, Sunday Igboho, on Friday.
Adesina while speaking with Punch, disclosed that he and other members of Yoruba local security and pressure groups were with him while on his way to see Adebanjo in Lagos.
He said, "Although we were caught unawares, we were not unprepared for any eventuality. Sunday Igboho was to meet our father, Ayo Adebanjo, in Lagos, so we got prepared and set out. I can't really tell the exact time."
"Our journey was smooth until we were stopped and the security men began to harass the entourage asking, 'Where is the criminal?' We were in disbelief. When we realised that it was Igboho Osha that they were on the lookout for, there was an exchange of words and the place turned rowdy."
"We called to question their ground for wanting to arrest him. For us, the law enforcement agents were wrong to have put on a show. On what ground would the arrest of Sunday Igboho be, while the killer herders who are wielding dangerous weapons, kidnapping, killing, maiming and extorting our fathers, mothers and sisters still walk free?"
"We are happy that although there was tension at the scene, we were allowed to go without any problem. No gunshot was fired, nobody got hurt and we later proceeded on our journey."
Meanwhile, a human rights lawyer, Femi Falana, on Friday, noted that the Federal Government cannot arrest Yoruba activist, Sunday Igboho, without picking up Islamic cleric, Ahmad Gumi, who has been meeting with bandits and others who have issues quit notices to southerners in the past.
Falana during an interview with Punch noted that Gumi, last week told bandits that Christian soldiers were the ones killing them.