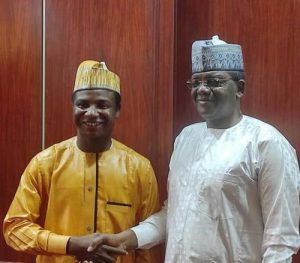 A repentant bandit leader in Zamfara State, Amadu Katare, on Monday, disclosed that he became a bandit because his parents, wives and children were extrajudicially killed by local vigilantes.
Katare, who surrendered some AK47 rifles and ammunition to the government said, "I was forced to join banditry because of the extrajudicial killing of my parents, children and wives by the 'Yan Sakai' (local vigilante group)."
"We are not thieves. We were law-abiding citizens; we are just fighting the injustice meted out to us by the vigilante group."
He further stated that the peace initiative of the state Governor, Bello Matawalle has encouraged many to renounce banditry.
"Also, there are other colleagues in Zamfara, who vowed to continue banditry but relocated to the Niger Republic because they learnt that the government in Zamfara is committed towards the peace dialogue and they cannot operate in the state."
"Most of us earlier believed that the peace dialogue initiative was the usual government deceit, which was the reason why many ignored it. However, with me coming out to embrace the peace dialogue, I will convince many other colleagues who are sceptical to surrender."
"We are appealing to governments at all levels in the country to protect the lives and properties of the Fulani because they are being killed innocently on a daily basis in the forest and if that is not controlled, a lot of damage will continue to happen," Katare said.
Naija News had earlier reported that the state Governor met with Katare and two other repentant bandits at the Government House on Monday.
"We thank God for making us witness another day of success. Since we started this dialoguing with these people, we have been getting so many attacks from all angles because people do not understand what it means," the governor said during the event."
"People have been debating the issue of insecurity but they don't know the root cause and they don't want to understand. They only jump and conclude on why governments A, B, C, D are subscribing to dialogue."
"The government is doing everything possible to mop up all the weapons belonging to them, to bring it to the proper authority."