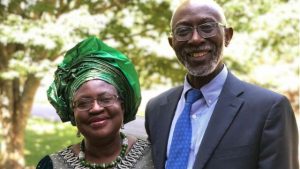 Ngozi Okonjo-Iweala has made a name for herself across the globe by standing tall in her career path but not everyone knows about her husband Ikemba Iweala.
Here are seven key facts about Dr Ikemba Iweala.
Ikemba Iweala is from Umuahia, the capital of Abia State. He is a leading physician and specialist in the field of neurosurgery.
He received his medical training at the University of Ibadan and spent a year in Nigeria at a hospital in Igbaja village in Kwara state.
After graduating from his homeland, known as the 'National Youth Service Corps', Ikemba Iweala travelled to England where he spent more time at Manchester Royal Infirmary as well as other hospitals in the country.
Ikemba Iweala thus joined the Royal College of Surgeons of Edinburgh and also a Fellow of the Royal Society of Medicine.
He later travelled to the United States where he worked at the University of Maryland Medical Systems in Baltimore, and George Washington University Hospital in Washington DC.
Dr. Ikemba Iweala started a company called 'Ike Foundation for Autism'. Their job is to help people with Autism to live a better life
The couple, Ikemba and Ngozi, have four children: a daughter and four sons. Their names are Onyinye, Uzodimma, Okechukwu and Uchechi Iweala. Three of them (Onyinye, Uzodimma and Uchechi) are English doctors, while the other is a scholar and writer.