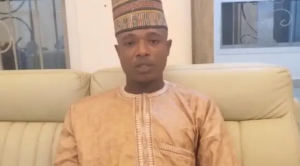 The abductor Of the students of Government Science Secondary School, Kankara, Katsina State, Auwal Daudawa, has said he is still in contact with his former colleagues.
In an interview with Daily Trust, Daudawa said he led the abduction of students last year due to comments made by Governor Aminu Masari of Katsina.
He noted that some of the bandits that worked with him are looking forward to coming out the way I did if they see how the government treats him.
Daudawa stressed that his intention is to show his former colleagues the way to lay down their arms for them to also have amnesty.
He said: "I am in touch with many of them. Some of them are looking forward to coming out the way I did if they see how I end up.
"Some who didn't hear from me began to foment trouble, but I told them not to do any of that.
"They should not bother, whatever happens to me. My intention is to also show them the way to lay down their arms for all of us to have this amnesty.
"This is the advice I have been giving my brothers in the forests, and a lot of them are giving me positive feedback."
Daudawa stated that he is willing to submit himself to justice if there is a decision to punish him for the crimes he has committed.
He said: "Whatever it is, I am ready. If I am told now that I would be killed and burnt, by God, I will not move an inch since I have decided to change for the sake of Allah.
"Even if I were to be skinned, I will not resist in any way.
"Remember that I turned myself in; I was not arrested or forcefully brought here. I brought myself and I was fully aware that I could face death.
"Whoever would face a detachment of troops surely knows that death is a strong possibility. I have repented and submitted myself. I don't want to look back at all.
"If some of us at some point came out to renounce violence and go back and continue their old ways, that is their own choice.
"If someone repents but has arms in the bush, you know it cannot be a sincere one.
"In my case I carried myself and the arms I had and turned myself in, what should I go back and do? If I do anything Allah sees it."