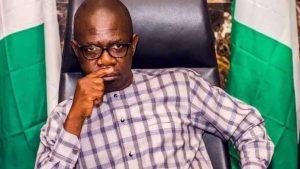 The Ondo State Deputy Governor, Agboola Ajayi who recently dumped the All Progressives Congress for the Peoples Democratic Party is facing impeachment proceedings in the state House of Assembly.
The house during its sitting on Tuesday raised seven allegations against the state Deputy Governor as grounds for his removal.
The allegations levelled against Agboola include:
1. Gross Misconduct
2. Abuse of office with actions likely to bring down Ondo State Government
3. Financial Recklessness
4. Abandonment of office, official duty and other Assignments
5. Actions on Sunday 21st June 2020 likely to cause a breach of peace in reference to 1983 political crisis with the intent to incite the citizens against the government of Ondo State in a video clip at Government house-ground
before the Commissioner of Police, Ondo State.
6. Publications dated Tuesday 23″ June 2020 on new media and prints media by his sacked aide Babatope Okeowo credited to his person and office by Sahara Reporters, Sunrisebulletin.com and others maligning the credibility of the legislative arm of Government with false allegations of cash inducement.
7. Petition from All Progressive Congress (APC) Ondo Chapter on his alleged movement to Peoples Democratic Party (PDP) having sworn-in as the Deputy Governor on the Party's Ticket with Mr Governor for a 4 years term.