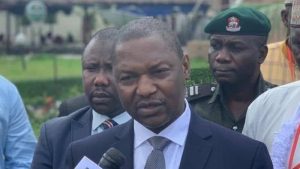 The Nigerian government has approved the establishment of a new anti-corruption commission in addition to the Economic and Financial Crimes Commission and Independent Corrupt Practices Commission, the country's anti-corruption watchdogs.
Announcing the move after a cabinet meeting on Wednesday, Justice Minister Abubakar Malami said the work of the new anti-corruption commission was to oversee and coordinate all assets recovered at home and abroad.
The minister said the establishment of the new commission was necessary to build on the government's achievements in the fight against corruption in Nigeria.
Nigeria's anti-corruption watchdog, the EFCC, is responsible for overseeing the discovery and recovery of assets, but it has also faced allegations of misappropriation of funds that led to the suspension of its caretaker president, Ibrahim Magu.
The name of the new commission
The justice minister said the name of the agency approved by the executive council was the Proceeds of Crime Recovery and Management Agency.
And this resolution was presented to the legislature for approval for the establishment of the commission.
The minister said that once the legislature approves the bill into law, the commission will look into how to properly manage the assets that have been squandered with the assurance of honesty and trust.
The work of the Commission
The work of the commission involves the collection of all assets in the various recovered government agencies. and according to the Minister of Justice having a well-organized process will strengthen the international community's support for the recovery of stolen assets.
The commission will then brief the Ministry of Finance on the details of the recovered fund.
He said the main purpose of setting up the new commission was to ensure transparency and accountability in the recovered assets.
The purpose of the commission
The Nigerian government says most of the recovered funds are in the hands of various government agencies including the police, DSS, EFCC and ICPC.
And this system is temporary, because no agency is responsible for collecting data on assets in the hands of government agencies.
"There is a need for an agency that can give you off-hand the number of landed assets, number of immovable assets, the amount in cash that are recovered by the federal government," said Malami.
He said it was the agency's responsibility to provide information to the Ministry of Finance, Budget and National Planning specifically on the amount of money it has collected for use in the budget.