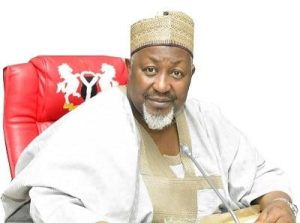 Governor Badaru Abubakar of Jigawa State has declared 2020 Eid-Il-Kabir celebration cancelled in the state.
According to the governor in a statement revealed to newsmen on Tuesday, July 21, the decision was part of the states government's fight against the novel COVID-19 disease.
Naija News understands that governor Abubakar has banned Eid-il-Kabir celebration and as well the traditional horse Durbar which usually takes place during Sallah festivals in the state. Speaking with newsmen today in Dutse the capital city of the state, Abubakar reiterated that the initiative is in line with his administration's unrelenting fight against the novel virus.
He noted that the state was already defeating the spread of the deadly virus, however, insisted that there is a need to keep up with the momentum.
Governor Abubakar revealed that markets in the state were granted permission to operate their businesses simply because they have complied with the rules of social distancing.
He said, "Despite this development, the state will remain strong in the fight against the disease in order to maintain and improve in controlling the pandemic," Governor Abubakar said. He gave a further update on the situation during his chat with Government House correspondents in the state."
He added, "Only one person remains in the state isolation centre. The ones in Fanisau and Birninkudu were closed down, but the centres are being kept neatly against the unforeseen circumstances."