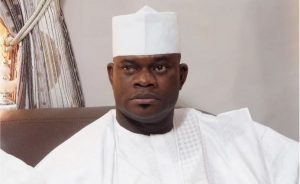 Kogi State Governor, Yahyah Bello has won another legal battle as the court of appeal sitting in Abuja affirmed him as the winner of november 16,2019 gubernatorial election.
Naija News learnt that the five-man panel led by Justice Adamu Jauro, in separate unanimous verdicts nullified the four appeals brought before it challenging Bello's victory at the poll for lacking merit.
Those, who filed the appeals were the Peoples Democratic Party, Social Democratic Party, Action Peoples Party and Democratic Peoples Party.
In the appeal filed by Musa Wada and the Peoples Democratic Party, they alleged that Governor Bello's election is riddled with illegal thumb printing of ballot papers while the petition of Mrs Natasha Akpoti and the Social Democratic Party claims that the election was fraudulent.
The Governor of the State while reacting to the verdict Appeal Court said the judgement is a re-affirmation of his "landmark victory" of the November 16, 2019, election held in the state.