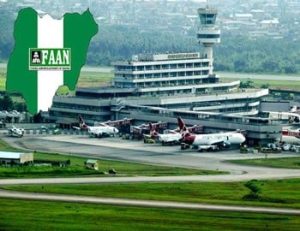 The 18 R runway of the Muritala Muhammed International Airport, Lagos has been closed after an aircraft experienced burst tyre while landing on Tuesday evening.
The aircraft is a Boeing 737 with registration 5N SYS, and flight number ZQ2325 belonging to Azman Air, Naija News understands.
Though no life was lost in the incident as all passengers and crew members were safely evacuated, the Federal Airports Authority of Nigeria (FAAN) has announced a closure of the runway to flight operations.
The General Manager, Corporate Affairs, FAAN, Mrs Herrietta Yakubu in a statement confirmed the development. She said: "Federal Airports Authority of Nigeria hereby announces a temporary closure of Runway 18R/36L at the Murtala Mohammed Airport, Lagos."
"The closure is due to a landing incident involving a Boeing 737 Azman Air aircraft with registration 5N SYS, and flight number ZQ2325. The aircraft had a tyre burst after landing on this runway."
"All passengers and crew on board the aircraft were safely evacuated at 1908 hours, and officials of FAAN Air Rescue and Fire Fighting Services, AIB and NAHCO are already working to ensure the aircraft is towed out of the runway, so as to restore normalcy."
Meanwhile, prominent Islamic scholar, Sheikh Ahmad Gumi has revealed that about 10 percent of herdsmen in Nigeria are criminals.
The cleric made the disclosure on Tuesday when he appeared as a guest on a programme by the African Independent Television (AIT).
He added that if the government wants the criminals among the herdsmen to be exposed, then amnesty should be given to the remaining 90%.
Gumi argued that it shouldn't be hard for the government to give amnesty to the herdsmen since it already did something similar by granting amnesty to Niger Delta militants.