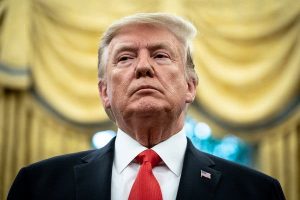 The administration of President Donald Trump on Tuesday formally withdrawn the United States from the World Health Organization (WHO).
Naija News reports that WHO is seeking to organize an international response to the coronavirus pandemic which had claimed over 130,000 in the US.
Recall that President Trump had in May accused WHO of failing to protect other nations from the COVID-19 outbreak.
In a post on Twitter, Senator Robert Mendendez (D-N.J.), who chairs the Foreign Relations Committee, said Congress received a message from the White House to that effect.
"Congress received notification that President of the United States (POTUS) officially withdrew the U.S. from the WHO in the midst of a pandemic. To call Trump's response to COVID chaotic & incoherent doesn't do it justice.
"This won't protect American lives or interests—it leaves Americans sick & America alone," he wrote.
The move by Trump will take effect from July 2021.
Recall that the US President had slammed WHO while announcing plans to exit the world health body.
Trump said the WHO had failed to make 'greatly needed reforms,' and said the U.S. would divert funds to other global health organizations.