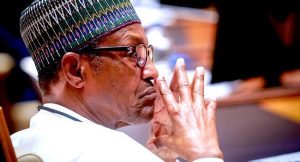 Senator Bima Enagi (APC-Niger South) has described President Muhammadu Buhari as incompetent when it comes to tackling insecurity.
Naija News reports that at around 2 am on Tuesday, gunmen attacked the Federal Government College of Science, Kagara, Rafi Local Government Area of ​​Niger State.
The assailants raided staff dormitories, dormitories, gathered them in one place and drove them into the desert to an unknown location.
An eyewitness said the attackers shot a student who tried to escape during the attack at around 3 am.
Reacting to the latest abduction of students on Wednesday while contributing to a debate on a motion sponsored by Senator Sani Musa, Enagi noted that insecurity has been discussed by lawmakers on many occasions but instead of things getting better, they are getting worse.
He said: "As my brother (Senator Musa) reported, early this morning terrorists went to a secondary school and kidnapped students, small students.
"The enemies of God, bandits, terrorists, kidnappers are everywhere. Where are we heading to in this country? What else do we need as lawmakers that we are not doing? Can we rightly say that the government, is incompetent? Because this issue has been discussed here over and over and there is no improvement.
"It is getting worse, I'm sure everybody here has stories to tell about the security challenges. What else are we supposed to do that we are not doing? Are we supposed to amend the laws in this country to give every citizen freedom to carry arms?
"Are we going to amend the constitution to give more powers to the governors who are the security heads in their various states because our government at the centre is showing incompetence in handling insecurity because it is not his son or his daughter that has been kidnapped.
"I expect everybody in government to think like that."