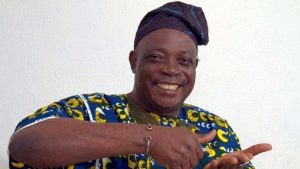 The leader of Zenith Labour Party, Rashidi Ladoja and the former Governor of Ekiti State, Ayodele Fayose are holding talks about his defection to the Peoples Democratic Party.
The development was confirmed by the Secretary of the Zenith Labour Party in Oyo State, Bimbo Adepoju, on Friday.
There are speculations that the former Governor of Oyo State might have concluded plans to defect to the party.
ZLP in the state has appointed Kolawoke Olaniyan as the new chairman of the party in Oyo State following the defection of the former Chairman of the party, Wole Abisoye, and five other local government chairmen of the party to the ruling PDP on Wednesday.
They were received at the Government House in Ibadan.
However, Fayose and Governor Seyi Makinde are at loggerheads over the leadership of the party in the South-West.
The secretary said while speaking on the defection of the former chairman of ZLP in Oyo State said Ladoja is unaware of the defection of the former chairman and others to the PDP.
Recall that Ladoja joined hands with some political parties for Makinde to emerge as the winner of the 2019 governorship poll in the state.
The ZLP governorship candidate then, Sharafaden Alli, who dropped his ambition to support Makinde, had last week led some leaders of the opposition party to discuss a possible defection to the All Progressives Congress but the meeting appears to have failed to achieve its aim.
The ZLP secretary said, "We are here to look at the recent developments in our party, especially the defection of our chairman to the PDP. He joined the PDP without the consent of our father and leader, Chief Rashidi Ladoja, and other leaders of the party."
"However, the party is intact. As you can see, 28 of our chairmen are here. They are here to pledge support for our party and our leader, Chief Rashidi Ladoja, who knows nothing about their meeting with Governor Seyi Makinde."
"I want to appeal to our members to continue to work because we are consulting with people. The leader of the PDP in the South-West, former Governor Ayodele Fayose, and our leader, Baba Ladoja, are talking and I can assure you that everything will be clearer soon."
The new chairman of the party urged members of the party to continue to work for the progress of the party, adding that the party would spring a surprise soon.