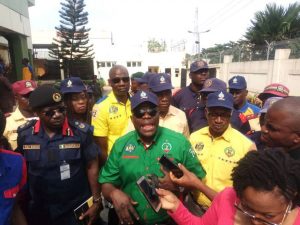 According to the agency's Director-General, Dr. Olufemi Oke-Osanyintolu, the fire was caused by a faulty cooking gas valve that exploded.
The LASEMA boss, however, revealed that no life was lost in the inferno due to the quick response of LASEMA and other agencies.
He noted that the fire incident which started around 5 pm on Saturday raged for over four hours, with 62 traders and about 28 households affected.
Oke-Osanyintolu disclosed that the bungalow property comprised nine rooms, including 12 shops was extensively damaged.
The LASEMA boss noted that the entire building destroyed by the inferno will require integrity testing by the Lagos State Building Control Agency (LABSCA).
He attributed the incident to the carelessness of one of the tenants, who was cooking with a leaking gas cylinder, which affected other people's properties in the building.
Oke-Osanyintolu urged residents to keep off the scene, while also advising members of the public to ensure that their gas cylinders are always in good condition, to avoid fire outbreak.