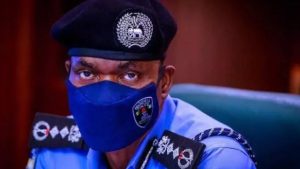 The Inspector-General of Police, Mohammad Adamu, has been invited for questioning by the Lagos State judicial panel over a case involving one Adewale Adewuyi, a petitioner who is on a stretcher.
The lawyer to the petitioner, Debo Adeleke, alleged that the police refused to release 26 acres of farmland seized from the petitioner since, 2013.
Adeleke asked the panel to summon the IGP so that the police could be compelled to release the seized farmland.
This is coming after the Lagos State Judicial Panel of Restitution and Inquiry investigating cases of police brutality have awarded N10 million each as compensation to two victims.
The Chairperson of the panel, Doris Okuwobi, presented the cheques to the victims on behalf of the state government.
The two petitioners are Kudirat Abayomi, who was killed by a police stray bullet in April 2017, and Hannah Olugbodi, who ended up on a crutch after her left leg was shattered by a stray bullet fired by some men of the disbanded police Special Anti-Robbery Squad (SARS) in Lagos.
In November 2020, Olugbodi, a hairstylist, had narrated to the panel how a stray bullet from a police officer had shattered her left leg and left her in crutches.
According to her, the incident happened in June 2018, while she was on her way to a market in Ijesha. She had alleged that the officers, who were members of the now-defunct special anti-robbery squad (SARS), had raided a hotel and shot sporadically, and she was hit in the process.
On his part, Abayomi had told the panel that on April 4, 2017, his mother was hit when SARS officers visited the Onipanu area of Lagos.
He also accused the police of abandoning his mother's corpse on the bare floor of a mortuary.