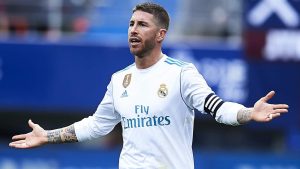 Sergio Ramos, a Spanish professional football player who plays as a centre back for Real Madrid has boasted that his club will this season emerge winner of the La Liga competition.
The captain warned La Liga title rivals, FC Barcelona on Wednesday night that his club will do it possible best to emerge champions of the Spanish top-flight league.
Naija News understands that Ramos made the submission after a 2-0 win over Mallorca at the Santiago Bernabeu Stadium yesterday. The 34-year-old netted a sublime free-kick against Mallorca in the La Liga game to give three-points lead to Zinedine Zidane's men against the visitors.
The winning saw Real Madrid appears with 68 points on the La Liga game table just like their titled contenders, Barcelona.
"We know every remaining game is like a final and we're going to give it everything we have to win LaLiga," said Ramos while speaking after the Wednesday night victory.
He added, "We would love to win it as a reward for this effort we've put in following the interruption due to the coronavirus. We've had a few very tough weeks of training, and we're seeing the benefits."
Meanwhile, a former footballer who played for Hull City youth team, Thomas Beattie, has disclosed that he is gay.