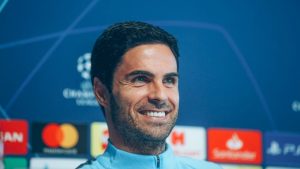 Arsenal manager Mikel Arteta says he is not too frustrated with his side's 3-1 defeat to Liverpool, as it shows the quality of his players. And he hopes in the near future to have the same level of experience and expertise as Liverpool's Premier League champions.
As is well known, in Monday's match, Arsenal's first goal for Liverpool was scored by Alexandre Lacazette, after taking advantage of a Robertson error, but Liverpool beat Arsenal at Anfield and Liverpool did not fall to their knees until they snatched the ball away and added two more, making it 3-1.
But after the break Mikel Arteta made no secret of his defence in a post-match press conference, saying Liverpool had given his side a gap and were stronger than his team.
The Arsenal boss, who is a former midfielder at the club, said the truth is that Liverpool are stronger than Arsenal but he hopes in the near future Arsenal will be like Liverpool.
"Liverpool are the biggest club in England at the moment and we don't have a strong team so if we lose in his hands it's not surprising because there are a lot of experienced and great players in the team," said Arteta.
He added: "Building Arsenal as Liverpool is now is a big task ahead of me so I need time and in the near future I hope we can reach this level if we continue to persevere and win big games."
Arsenal's defeat was the club's first defeat in three games since returning to action and Liverpool have won all three of their matches.