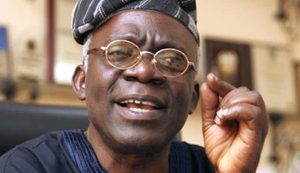 One of Nigeria's most respected human right lawyer and Senior Advocate of Nigeria (SAN), Mr Femi Falana has warned justice Ayo Salami led panel to take extreme caution on the evidence placed before it by the Attorney General of the federal ,Abubakar Malami and other compliant.
Speaking via a letter dated September 4, 2020, Falana asked  Ayo salami led panel not to  recommend the termination of forgery charges against a businessman from Republic of Benin, Granhoue Sourou Nazaire, and two others as evidence placed before it might be misleading.
Naija News Understands that a Benin Republic national who is standing trial at the Lagos state high court, petitioned the panel that he was accused wrongly by the EFCC under Magu.
In the two charges pending at the Lagos state high court, Nazaire was accused of having defrauded Rachidatou Abdou, his erstwhile girlfriend and business partner who is a Nigerian citizen.
AFalana, writing on behalf of Abdou, his client, requested that the panel refrain from recommending the termination of the charges against Nazaire at the Lagos court.
The senior lawyer said Naziare and others have been frustrating the court proceedings, and are now using the panel to have the criminal cases against them terminated.
"Our client who is the complainant in both criminal cases has informed us that the defendants recently submitted a petition to the Honourable Judicial Commission of Inquiry headed by the Honourable Justice Issa Ayo Salami PCA (rtd) where they claimed, albeit falsely, that the suspended Chairman of the Economic and Financial Crimes Commission, Mr. Ibrahim Magu abused his office by charging them with forgery and stealing in the Lagos State High Court on the basis of a petition written on her behalf by our law firm," the letter read.
Meanwhile, the embattled  Ibrahim Magu, the suspended chairman of the Economic and Financial Crimes Commission (EFCC), has tabled a fresh request before the Justice Ayo Salami probing him.