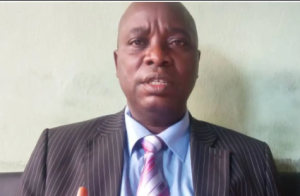 President Muhammadu Buhari has been called on by Olusegun Bamgbose, the National Coordinator of the Concerned Advocates for Good Governance, CAGG, to place the suspended acting Chairman of the Economic and Financial Crimes Commission, Ibrahim Magu, under house arrest with full security after his interrogation.
The Lagos based lawyer in his statement released on Friday noted that there are some powerful forces who want the suspended EFCC boss dead than to be alive to share his experience as the commission's Chairman.
According to Bamgbose, if Magu decided to open up, many people will be affected and the nation may explode, he added that Magu has secrets that may shake the nation's foundation.
Bamgbose on Friday noted that "The directive to thoroughly investigate Magu by the Presidency is commendable."
"The truth, however, is that if Magu decides to open up, many heads will roll and the nation may explode. Magu has secrets that may shake the whole nation."
"There are some powerful forces, who at this juncture, will want Magu dead, than live to recount details of his experience as EFCC Chairman."
"His life is in grave danger. I'll urge President Buhari to order him to be placed under house arrest with full security."
"If Magu decides to split the beans and open the can of worms, the nation will quake. I see powerful forces scheming to do away with him."
"The President should protect him. When the investigation is over, he should be accordingly charged to Court and if found guilty, he should be sent to jail."
"This will act as a deterrent to others, that the fight against corruption is real. Nobody is above the law. All hands must be on deck to stem the tide of corruption in Nigeria."