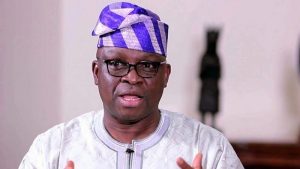 A former Nigerian Ambassador to Jordan and Iraq, Taofeek Arapaja, has said Ayodele Fayose, is set to dump the Peoples Democratic Party (PDP) to the All Progressives Congress (APC) towards supporting the National Leader of the APC, Bola Tinubu, to become president of Nigeria in 2023.
Naija News reports that Fayose and Governor Seyi Makinde of Oyo State have been at loggerheads over the leadership of the South-west caucus of the party.
Speaking to newsmen at the weekend, Arapaja accused Fayose of plotting to polarize PDP towards ensuring that the party moves into disarray before moving to APC.
He also said it would be disheartening if the National Working Committee (NWC) of the party gives undue preference and recognition to the Fayose's faction by postponing the planned March 6 South West congress of PDP.
Arapaja said: "How can the NWC recognise the other side because they are just making noise? We all know the antecedent of Fayose, their leader normally. A person with normal home training will not behave like that, castigating those who are older than you, always abusing this and that. Those that are following him are even more decent than him, to be candid. How can you be following somebody like that?
"Well, like my governor (Makinde) said, those making noise are irritants. The face of the party is in one place. He (Fayose) also acknowledged Governor Seyi Makinde as the only PDP governor in the South West and by extension the leader of the party in South West. But he was just trying to make himself the father of the fathers.
"For instance, when former President Olusegun Obasanjo visited Ooni of Ife, he prostrated for him, though Obasanjo could give birth to the Ooni. Prostrating for Ooni doesn't reduce Obasanjo's age or bring him down as an elder statesman that he is. So, the face of PDP in South West is Governor Seyi Makinde, that is what God wants.
"So I don't want to speak for the NWC but the leader of the party is in one place and the majority of the members of the party are in one place. Someone who keeps shouting Asiwaju, Asiwaju every time should be put in his place or what kind of politics is that? If he doesn't believe in what the party is doing, he should not be regarded as part of the party. Now he's being rewarded for what he is doing. His passport has been released for him to travel. All they want to do is to polarize and destroy PDP and then move on to APC. So, it is better they should just go now.
"If truly one is part of a house, one should not be part of those that seek the destruction of that house. So if they are sincere and they want to reconcile, because that's the only way we can move and they will also recognise the ordained leader of the party. He (Fayose) has been a governor before and the leader of the party. So, what is the matter now that Governor Seyi Makinde is the leader? Governor Makinde is the leader of the party, both in Oyo State and South West, and that has been the tradition."