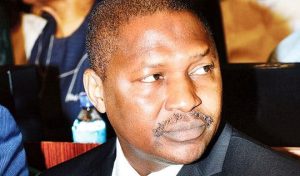 Nigeria's Minister of Justice, Abubakar Malami (SAN) has reacted to the alleged reports that he bought N300 million house for his newly wedded son, Abdulazeez, in Abuja.
Speaking on the alleged report, Malami via a statement issued by his media aide, Umar Gwandu said the allegations were untrue, fabrications and mere figments of the imaginations of various media outlet.
Malami also disowned pictures and a video linked to the wedding of his son, saying the video in which some people are seen spraying money and flouting COVID-19 guidelines has nothing to do with his son's marriage.
He also challenged his accusers to name the vendor of the purported house and its location and to publish the title documents.
"God knows that I did not purchase any house for him in Abuja. Not even a rented house was secured for my son in Abuja, because he has no plan to live in Abuja," Malami was quoted as saying.
The statement added: "The allegation of hiring private jets for the marriage was preposterous.
The minister's son, wedding Fatiha took place in Kano on Saturday, July 11, 2020. Malami said the wedding took place under strict observance of the protocols and guidelines of the Presidential Taskforce on COVID-19.