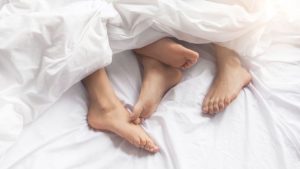 A Nigerian medical practitioner identified as Olumide Adeuyi has shared a disturbing event of a young man who reportedly suffered a broke on his manhood while making efforts to satisfy his woman in a hotel room.
The horrible event which has been described as 'overdo' by Nigerians on social media has landed the young man on a hospital bed undergoing a surgical operation.
According to Adeuyi, the incident had happened on Sunday morning in a hotel (name and location not revealed). He noted that the young man was reportedly making some hard thrust on the lady when he suddenly cracked his sexual organ.
The seemingly funny and pitiable incident has, however, gathered a barrage of reactions on social media as Nigerians blamed the young man for going the extra mile. Some noted that there are other ways he could have satisfied both himself and the lady instead of making such rigorous moves which have now put his life in danger.
According to another social media user, pride led him to the unfortunate encounter and that men should learn to do as they are capable of not going the extra length when it comes to making a woman get orgasm.
See the graphic photos below as shared by Adeuyi on his Twitter account;
"It happened around 5am sunday AM in a nearby hotel. D guy ws pounding away vigorously. In a bid 2 give d hardest and strongest thrust from a little distance outside the box, he crashed his penis on the mons pubis. The next thing he heard was a sound kam , the penis was bent" pic.twitter.com/YqQQULWJZS

— #EL-VINO (@OlumideAdeuyi) July 15, 2020
Meanwhile, a Nigerian man on Twitter has said it is not possible for a man to stay faithful to a woman beyond a year, Naija News reports.