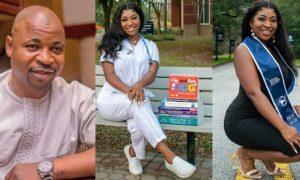 The daughter of the National Union of Road Transport Workers (NURTW), Lagos Chapter, MC Oluomo, Nofisat has revealed that she is now a registered nurse in the USA.
The excited lady shared the news on her Instagram account, noting that though she was freaking out during the exam, she eventually passed with the minimal number of questions.
She added that she'll now be working at Northside after passing as a registered nurse in the state of Georgia.
She wrote; "Allow me to Reintroduce Myself….
"Ms. Nofisat Akinsanya, BSN, RN. I'm officially a Registered Nurse in the states of Georgia. I passed my NCLEX with the Minimal Number of questions and even though I was freaking out; my support system did not back out once.. Will be working at Northside and I can't wait to begin this journey."
"According to Cardi B "My careers taking off, these hoes jogging in place"
Meanwhile, the United States Government has accused Ramon Abbas popularly known as Hushpuppi of laundering funds stolen from a Maltese bank for Noth Korean hackers.
According to a statement released on Friday by the Department of Justice, Hushpuppi took part in a "North Korean-perpetrated cyber-enabled heist from a Maltese bank in February 2019."
The department said the cyberattacks were aimed at stealing and extorting more than $1.3 billion of money and cryptocurrency from financial institutions and companies.
Deputy Director of the Federal Bureau of Investigation (FBI), Paul Abbate said in the statement that Wednesday's unsealed indictment expands the FBI's 2018 charges for the "unprecedented cyberattacks conducted by the North Korean regime."
The U.S. is specifically accusing North Koreans Jon Chang Hyok, Kim Il, and Park Jin Hyok of being members of the Reconnaissance General Bureau (RGB), a military intelligence agency of the Democratic People's Republic of Korea (DPRK).