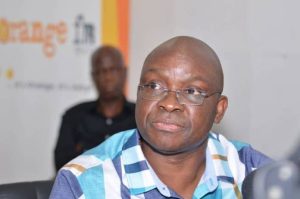 Former Governor of Ekiti State, Ayo Fayose, has reacted to the crisis rocking the All Progressives Congress, APC, describing it as the wrath of God.
The politician who recently alleged that Nigeria would not enjoy democracy until President Muhammadu Buhari's government elapsed its tenure, has noted again that God is unhappy with the APC administration due to how it treated millions of citizens who voted them into power.
According to Fayose, the Buhari administration has not been fair enough in treating citizens since its emergence in 2015.
"This is just the beginning, their matters will be made worse with time," said Fayose in a statement made available to newsmen on Thursday, June 18 via his spokesperson, Lere Olayinka.
Speaking on when progress will be recorded again in the country, Fayose noted that more trouble will befall the ruling party. He said, "more confusion will still hit the party till it goes into oblivion."
Fayose alleged that the office of the APC National Chairman should be held responsible for the crisis rocking the party.
He also decried continuous killings of citizens by bandits in the Northern part of the country.
He said, "God will never be happy with a party that its government is doing nothing to stop the bloodshed, raping of women; including children and destruction of people's sources of livelihood going on in the country.
"It is on record that more than 300 Nigerians have been brutally murdered by bandits in the last three weeks and the APC government has done nothing."
The People's Democratic Party (PDP) chieftain also berated the government's action on those who staged a protest against the uncalled killings in Katsina, Kaduna, Zamfara and the Sokoto States.
He said, "God can also not be happy with a party like APC, that its government has not only impoverished Nigerians but with its inept presidency, plunged the country into a debt that future generations will have to pay.
"Most importantly, will God be happy with APC after seeing how elections were rigged since 2015, the latest being in Kogi and Bayelsa States?".
Meanwhile, the Edo State governor, Godwin Obaseki has registered with the Peoples Democratic Party (PDP) in his ward and the move will be made official when he returns from Abuja, Naija News reports.