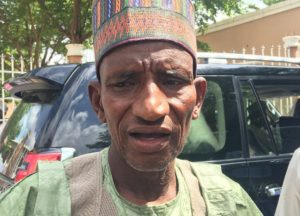 The District Head of Mashio in Fune Local Government Area of Yobe State, Alhaji Isah Mai Buba, who was recently reunited with his family and residents in the community after spending three days in kidnappers den has narrated his ordeal.
Naija News had reported that the village head was found on Tuesday morning at an open space near the state capital, Damaturu where his abductors dumped him.
Narrating his ordeal, Buba who was reportedly arrested on Saturday, August 15 described the incident as the will of Allah. According to him while speaking in Damaturu after his freedom, "the abductors were wandering with me in the bush throughout the night until I was rescued in the morning of Tuesday."
"They did not touch me or do anything to me. They were just wandering with me in the bush. They were seven of them," the monarch recalled."
Buba lamented that such an event has never happened in his community. The village head, however, prayed that such will be the last in their community.
When asked if he had in the recent time quarrelled with someone who might have sponsored his abduction, Buba said, "I don't know who I have offended. This thing comes from Allah and I take it that way."
He, however, confirmed in his statement that he heard clearly the kidnappers speaking in Fulani and Hausa languages. Buba further explained that they did treat him badly nor utter a word to him throughout the traumatic hours he spent with them in the bush.
In another news, one Pastor Ebenezer Ajigbotoluwa who was arrested in Abeokuta for sexually assaulting two siblings, has pleaded guilty and vowed to go on prison evangelism should he be pardoned of his sins.