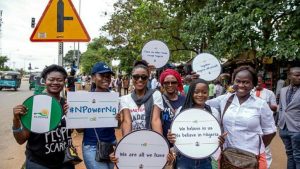 President Muhammadu Buhari's led administration has been urged to consider providing soft loans to beneficiaries of the N-Power scheme that will be exiting the programme in a couple of days.
The recommendation was made by the Northern Civil Society Groups, NCSG, in a statement issued on Thursday, June 25 in Kaduna State.
The NCSG expressed its satisfaction with the federal government's effort through the Office of the Minister of Humanitarian Affairs, for rolling out such a programme that empowers the youths at a time like this.
The statement which was signed and issued by one Isah Abubakar and other civil society groups in the state, however, condemned those who are already employed, and still go-ahead to enrol for the scheme which was targetted at the unemployed.
The group further urged unemployed youths to fully embrace the N-Power scheme to significantly reduce the pains of unemployment and poverty in the country.
Part of the statement reads; "The programme which started with 200,000 youths has since been increased to 500,000 overtime. This is a huge number that has surely made a significant impact in assisting these youths by putting food on their table."
The NCSG again admonished the office of Minister of Humanitarian Affairs to act strictly on people who are already employed but still fight for the space meant for the unemployed.
"Such people should be prosecuted to serve as lessons to others. Northern Youths have in the past neglected such efforts provided to them by saying this is for those who only know people up there," the groups reiterated.
It again urged youths in the northern part of the country to fill in their data for the N power programme in other to avoid had I know and as well letting people from other region take their spaces.
The NCSG added, "There is a pressing need to loudly speak on the issue frustrating the N-power project, which is that of doublers, stressing that they are those persons who are gainfully employed but still lack the contentment to leave the N-power programme for people who are jobless and in need of urgent help most especially amidst this COVID-19 pandemic".
Meanwhile, President Muhammadu Buhari led the Federal Executive Council (FEC) has given itapproval to N2.3 trillion naira sustainability package, recommended by the Nigerian Economic Sustainability Plan (NESP).