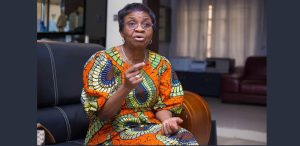 The National Agency for Food and Drug Administration and Control (NAFDAC) has approved the Oxford/AstraZeneca COVID-19 vaccine for use in Nigeria.
Speaking to reporters on Thursday in Abuja, Director-General of NAFDAC, Dr. Mojisola Adeyeye, said the agency gave the approval after subjecting the vaccine to various tests.
Adeyeye said NAFDAC got the dossier of the vaccine a week ago, and its safety committee went to work immediately to evaluate its safety and efficacy for Nigerians.
She noted that the vaccine could be stored in two to eight degrees Centigrade, adding that there were three additional vaccines undergoing evaluation.
Adeyeye asserted that the evaluation of the vaccine shows that the vaccine is effective against the United Kingdom variant of the virus which has been reported in Nigeria.
The NAFDAC DG stressed that the South African variant has not been reported in Nigeria, while the agency has over 30 herbal medicines undergoing review for listing.
Naija News reports that the Oxford/AstraZeneca vaccine, also known as ChAdOx1 nCoV-19, or AZD1222, is a viral vector vaccine and was recently approved by the World Health Organisation (WHO) for emergency use.
According to WHO, the AZD1222 vaccine against COVID-19 has an efficacy of 63.09% against symptomatic SARS-CoV-2 infection.
The health organisation said no substantive data are available related to the impact of AZD1222 on transmission or viral shedding.
In the meantime, WHO asks citizens to maintain and strengthen public health measures that work: masking, physical distancing, handwashing, respiratory and cough hygiene, avoiding crowds, and ensuring good ventilation.