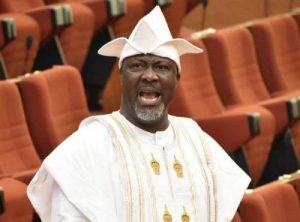 The Federal High Court in Abuja has set aside a suit filed by a former senator of the 8th National Assembly, Dino Melaye, which challenged some provisions of the Nigeria Centre for Disease Control Bill for lack of jurisdiction.
In her ruling, Justice Ijeoma Ojukwu dismissed Melaye's suit, noting that the issue outlined in it was not justiciable as the bill could not be a subject of litigation until it is signed into law.
Naija News understands that the former Kogi West senator had in May 2020, filed the suit marked FHC/ABJ/CS/463/2020, begging the court to get rid of sections 5, 8, 15, 16 and 17 of the bill which according to him constituted a violation or may likely violate his rights under the Nigerian Constitution, the African Charter on Human and Peoples' Rights as well the United Nations Declaration of Human Rights.
Also in the bill is a provision which empowers the Director-General of the NCDC to without consent compel an individual to take medical examination or treatment and as well take his/her blood sample in the case of a public health emergency.
Melaye, however, frowned at the outlined provisions in his suit, describing it as a violation of human rights.
Naija News understands also that a part of the bill among others, give provisions for the NCDC to forcefully acquire any premises and convert them into isolation centres without consent and compensation to the owner.
According to Melaye, the bill which has also been condemned by some citizens would specifically violate his fundamental rights, personal liberty, private and family life, right to freedom of movement and right to own immovable property within the country.
The former lawmaker's suite includes the likes of the Clerk of the National Assembly, the Clerk of the House of Representatives, the Speaker of the House of Representatives, the Attorney-General of the Federation, Mr Abubakar Malami, and the Inspector-General of Police, Mr Mohammed Adamu as respondents.
However, Ojukwu in her ruling struck out IGP Adamu's name, with claims that the plaintiff has failed to disclose any course of action against him.
Naija News recalls that Dino Melaye in March called on President Muhammadu Buhari to shut down Lagos and Abuja immediately, following the outbreak of Coronavirus in the country.