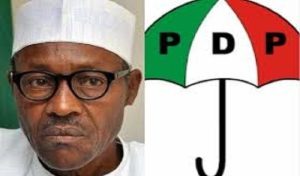 The Peoples Democratic Party, PDP, Thursday, described President Muhammadu Buhari's independence anniversary speech as a slap on the sensibilities of Nigerians, particularly his justification of his administration's increment of the pump price of the Premium Motor Spirit, also known as fuel.
President Buhari had in his broadcast pointed out a number of oil producing countries including Saudi Arabia, Ghana, Egypt and Niger Republic where the price of fuel is higher than in Nigeria, and concluded by saying that "sustaining the level of petroleum prices is no longer possible."
In its reaction, the PDP, in a statement signed by its spokesman, Kola Ologbondiyan called on President Buhari to "wake up to reality and take demonstrable urgent steps that will address the divisive tendencies and poor economic policies of his administration, which are fast decimating our dear nation under his watch."
According to the party, "President Buhari's attempt to justify the increase of fuel price in Nigeria by comparing it to the N168 per litre cost in Saudi Arabia is a morbid joke," adding that "the minimum wage in Saudi Arabia is N305,113 (3000 Saudi Riyals), ten times higher than our paltry N30,000 which is largely unimplemented in Nigeria."
The statement further read: "Is Mr. President not aware that, on the average, a person working in Saudi Arabia earns around 4,230SAR (N430, 267) to 16,700 SAR (N1, 698,693) per month?
"Our party charges Mr. President to always check his books before making such offensive comparisons including the price in Egypt where monthly average earning is around N222, 841 (9,200 EGP) against our N30,000.
The major opposition party in the country also flayed the togetherness theme of the President's speech, describing the allusion as a mere rhetoric.
@MBuhari's Independence Day Speech, A Slap On Nigerians- PDP…Exposes Illogicalities In President's Fuel Price Comparisons

The PDP describes the economic assertions in President @MBuhari's independence anniversary speech as a huge slap on the sensibilities of Nigerians. pic.twitter.com/PO7KawCrEJ

— Official PDP Nigeria (@OfficialPDPNig) October 1, 2020