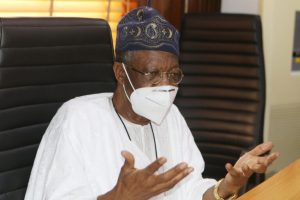 Minister of Information and Culture, Lai Mohammed has said Nigeria did not exit recession by accident or luck.
Speaking while featuring on Channels Television's Sunrise Daily on Saturday, Mohammed said the country exited recession due to the policies of the government such as the Special Public Works Programme, N-Power, Trader Moni, and other programmes.
He said: "We did not exit recession by accident, it was because of the hard work and the planning of the government.
"What we did was that we pumped money into the system, we did so by creating jobs, we did so through three major programmes: the first is the 1,000 jobs of public works that was given to each local governments and we have 774 local governments, When you have 774 young men working on public works, on roads, it goes a lot to boost your economy.
"There is what we call survival funds which the federal ministry of industry and investment supervised. One of the things we said we must do is that we must prevent loss of jobs and create new ones and we must make sure that MSME (Micro, Small and Medium Enterprises) does not collapse. So, what did we do with survival funds? We asked companies to employ between five and 50 people, we gave them payroll support for about three months and that payroll support went to about 500,000 MSMEs.
"Then, we also did what we call a one-off grant whereby we gave N20,000 to artisans, hairdressers, keke napep (riders), and this went to about 333,000 such individuals."
Naija News had earlier reported that Nigeria's economy unexpectedly exited recession in the fourth quarter of 2020.
In a statement on Thursday, the National Bureau of Statistics (NBS) said the economy grew by 0.11 percent.
The development comes after two consecutive quarters of negative growth which resulted in a recession.
Nigeria's economy beat projections from the International Monetary Fund (IMF) and the World Bank, both of which predicted Africa's biggest economy to exit recession in 2021.