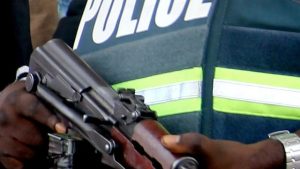 A young lady has landed herself into trouble after she allegedly assaulted an officer of the Nigeria Police Force in Ekiti State.
It was reported that Sale Obanla, on August 11 attacked a Police Sergeant who goes by the name Ilesanmi Lawrence and tore his uniform in the process.
Naija News learned that the officer attached to Ado Central Division, Okesa, Ado-Ekiti was rough handled by the young lady who held his duty uniform and tore it while discharging his lawful duty.
Obanla has, however, been arrested and arraigned before an Ado-Ekiti Magistrates' Court for the assault on the police sergeant.
Confirming the report, Police prosecutor, Sergeant Olubu Apata, said the defendant, standing trial on a count of assault, allegedly "committed the offence on August 11 about 7:00 am at Odo Aremu in Ado-Ekiti, Ekiti State."
According to Apata, Obanla's action has "contravened Section 356(1) (2) (3) and (5) of the Criminal Code, Laws of Ekiti State, 2012, pleading with the court to adjourn the case to enable him to study the case file and assemble his witnesses.
Reacting to the charges when read to her, Obanla pleaded not guilty. On his part, Counsel for the defendant, Mr Adebowale Adelusi, begged the court to grant his client bail and promised that the defendant would not jump bail.