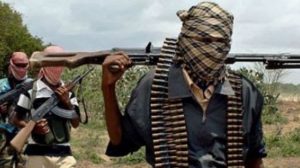 Nigerians have taken to social media to react to the abduction of some students of Government Girls Secondary School, Jangebe, Talata Mafara local government area of Zamfara State.
Naija News reports that unknown gunmen stormed the school in the early hours of Friday and abducted a number of students.
Confirming the abduction, Zamfara Commissioner of Security and Home Affairs, Alhaji Abubakar Dauran, said the abductors in their hundreds invaded the school and took away the students at about 2 a.m.
However, the news of the abduction of the schoolgirls has generated reactions from Nigerians who slammed the federal government over the level of insecurity in the country.
Below are some reactions gathered by this news platform from Twitter:
Zamfara Governor: Bandits deserve Sympathy

Bandits: Kidnap 300 Zamfara Girls

The Government to the Banditspic.twitter.com/abnk1Mglgv

— Odogwu (@Daddy_Nomso) February 26, 2021
Zamfara today. Niger yesterday. Katsina the other day. Taraba few days ago. Ibadan weeks ago. Ogun and Ondo too. It use to be one week one drama now it's one day one drama.

— Dr. Dípò Awójídé (@OgbeniDipo) February 26, 2021
I woke up to a report of another abduction of 300 school girls by TERRORISTS at GSS Government Secondary School in Zamfara State. When will this insanity ever stop? Another negotiation and ransom payment loading???? Sigh!

— Wale Adetona (@iSlimfit) February 26, 2021
BREAKING: Bandits invade Zamfara girls college, abduct 300 students.

You fed m*nsters with bl*od now you want to rehabilitate them, it can't work. And that's where Gumi got it wrong.
300 students can be packed anytime in buses and left with no trace? This doesn't make any sense.

— Ayemojubar (@ayemojubar) February 26, 2021
Less than a week that the news of the FG paying Bandits ₦800m made the rounds, another 300 schoolgirls have been abducted in Zamfara state.

Another cashout or this government is using us to play Sudoku?

Again, I go soon leave this country for una.

— Elvis Tunde ➐ (@Tunnykvng) February 26, 2021
#BREAKING: ANGELS invaded Government Girls School Zamfara and abducted 300 students.

Dear Sheikh Gumi, please help me retweet. Thanks!

— FS Yusuf (@FS_Yusuf_) February 26, 2021
Woke up to the news of 300 students kidnapped in Zamfara.

Wanna hear the truth? This is the new cash out system from your government.

Kidnap them – We say we pay N800m – You release them – We give you your share

Im just weak tbh . Where's that my bottle of Fearless again sef

— AdewalePresh (DJ Cuppy Future Husband) ❼ (@sarcasm_presh) February 26, 2021
It's not up to 2weeks that Kagara schoolboys were kidnapped in Nigeria State.

Today we wake up to news of 300 schoolgirls kidnapped from Jangebe in Zamfara.

Banditpreneurship has to be the most lucrative business idea out there at this rate. Because this madness makes no sense.

— #OurFavOnlineDoc (@DrOlufunmilayo) February 26, 2021
300 female students abducted in Zamfara.

News.

This "abduction market" is getting bullish.

The human "trading volume" is growing.

— Great Oracle (@AbdulMahmud01) February 26, 2021
Every day in Nigeria if its not Killings, its kidnapping. Its seems these Bandits have come to replace Boko Haram because their consistency is shocking. A whole 300 school girls kidnapped in Zamfara. And Nigerian intelligence can't locate where a whole 300 people are being kept

— Salman (@NotJustSalmanPR) February 26, 2021
– Sheikh Gumi or another Charlatan magically finds Bandits that kidnapped Zamfara Schoolgirls.

– Ransom is paid, enough to buy new sets of AK-47s.

– Bandits cousins in Mali enter porous Borders and do their own.

Rinse & Repeat..

— William (@_SirWilliam_) February 26, 2021
BBC Hausa has just reported the kidnap and abduction of 300 school girls by bandits at GSS Government Secondary School Jangeɓe in Zamfara State earlier today.

When does all of this madness end?

— #OurFavOnlineDoc (@DrOlufunmilayo) February 26, 2021