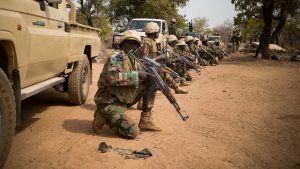 At least four suspected terrorist arm supplier have been killed by Nigerien forces.
The army of Niger republic intercepted the four Libyan arm suppliers on their way to Nigeria to supply weapons.
It is believed that the arms dealers were arm suppliers to the bandits that have been terrorising Nigeria's northwestern region.
According to The Guardian, the Nigerien army stopped the gunmen before they reached the Nigerian border.
The tragedy of the Boko Haram insurgency and banditry has undoubtedly been a nightmare for the people of the North East and North West. Since Boko Haram launched its terror campaign in Nigeria more than a decade ago, it has destroyed towns by killing countless people and displacing thousands of people.
Recently, the US government issued a warning to Nigeria that Al Qaeda terrorists were beginning to infiltrate other states in northwestern Nigeria.
As insecurity continues to worsen in Nigeria, the British government has warned some of its citizens to avoid some Nigerian states.
The warning was issued in a statement posted on the government's website, saying there was insecurity in some parts of Nigeria.
Borno, Yobe, Adamawa and Gombe, Kaduna, Kano, Bauchi, Niger, Jigawa, Katsina, Zamfara, and Kogi are some of the states that the UK has warned its citizens against visiting.