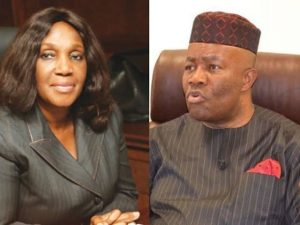 The Minister of Niger Delta Affairs, Senator Godswill Akpabio, has reacted to the alleged accusation by the former Niger Delta Development Commission (NDDC), Joy Nuneih,
Speaking during an interview on Arise TV, Akpabio said that Nuneih's sack was because of her insubordination to constituted authority. He also faulted Nunieh's claim that Akpabio attempted to force a corruption allegation against the Chairman of the Senate Committee on NDDC, Senator Peter Nwaoboshi, describing it as baseless and untrue.
He said: "She was not relieved of her appointment because of corruption. She was relieved of her appointment because of insubordination.
"My ministry, which supervises her, wrote seven letters to her but she never responded to one.
The late Chief of Staff to the President sent a petition from the anti-corruption agency stating that she didn't have the requisite qualifications to work as acting MD of a Commission."
According to him, Nuneih was removed after the discovery that she didn't possess the mandatory National Youths Service Corps (NYSC) discharge certificate.
He also said that the woman has temper problems which can be confirmed by her 4 former husbands.