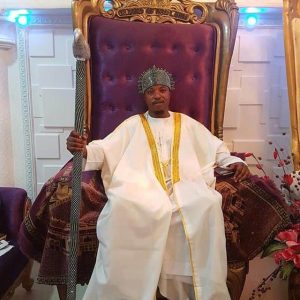 Oba Abdulrasheed Akanbi, has reacted to a petition written to the Osun State Governor, Adegboyeaga Oyetola, seeking his dethronement.
Recall NaijaNews reported that the Osun State Governor, Adegboyeaga Oyetola,  has been petitioned to dethrone traditional ruler, Oluwo of Iwo, Oba Abdulrasheed Akanbi, for allegedly engaging in acts that are unexpected of a monarch.
In a letter dated September 9, 13 chiefs under the under the aegis of the Concerned Kingmakers of Iwoland, made their reasons known, while clamouring for his removal.
Reacting, the Oluwo, through his Press Secretary, Alli Ibrahim, described the petition as a conspiracy of a detractor who contested the stool with him.
"We learnt of a letter purportedly written by some kingmakers calling for the removal of Oluwo.  We need not reiterating the fact that some of them were under duress stage managed by an over 40years serial contestant to the revered stool of Oluwo," the statement reads.
"We want to state it categorically that detractors who contested the stool with His Imperial Majesty, Oba (Dr.) Abdulrosheed Adewale Akanbi, are making every possible attempts to derail the compassionate Oluwo from the glory his reign has credited to the ancient stool of Iwo. "So much good things are happenings to Iwo under TELU. Why must it be him"they thought.
"It's a conspiracy of a detractor who has been fighting so hard to become the Oluwo of Iwo.The detractors has  gone beyond many times to discredit Oba Akanbi and failed serially. The recent was to divide the king makers but dead on arrival. Achievements of Oluwo endeared him to Iwo, more. You can't run down what your children may benefit in the future.
He went on to note that the king is one of positive Mark's, adding that he is a market, detractors are trying to de-market.
The statement said that Oba Akanbi's reign is prosperous, fruitful and virile to the advantage of all and sundry, while noting that those who want him out are doing so because they want to occupy his position.
"In the olden days, losers who contested the stool with winner are not allowed to stay in town but thing has changed. We will keep managing him. He is my subject,"
"From all indications, Iwo is secured economically, security wise. The religious Atmosphere, traditional and political deals are peaceful under his majesty. Iwo has never had it so good like this traditionally. The loathe is natural when good things keep coming to town,"
"Traditional system is not parliamentary. Oluwo will keep serving humanity. Nothing will discourage the good work. He loves everyone. Together we can achieve better. Detractors romancing my Chiefs should continue wasting their time, Oluwo will keep lifting his subjects."