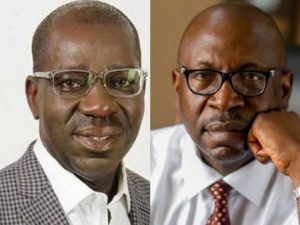 Edo State Has The Highest Domestic Debt In Nigeria-JOFDES
The Edo State government has been berated over an alleged plot to borrow over twenty billion nairas from the stock market.
Naija news learnt that some aggrieved Edo citizen who were annoyed with the new step by Governor Godwin Obaseki's plot organised a protest in the state earlier today. They alleged the loan was for the Governor's re-election bid.
The protesters, armed with placards bearing various inscriptions, chanted anti-government songs. Some of the inscriptions on the placards were: "We reject the N20b loan by Edo State Government"; "Do not sell the future of Edo State, because of political interest"; "Edo is one of the states in Nigeria with highest debt profile" and "N20b loan will be diverted for Obaseki's re-election campaigns."
However In a reaction to the allegation Obaseki, through his Special Adviser on Media and Communication Strategy, Crusoe Osagie, accused the Governorship candidate of the All Progressives Congress (APC), Pastor Osagie Ize-Iyamu, of sponsoring the protests. He, however, stated that such actions would not distract voters.
But Ize-Iyamu, responding through the Chairman, Edo State APC Media Campaign Council, Prince John Mayaki, declared it was ludicrous and insulting to the people of Edo state, known for their independence of thought, for the Governor to suggest the anger the protesters expressed on the streets of Benin over the N20 billion loan was done at his behest