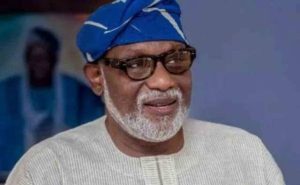 Governor Rotimi Akeredolu has finally reacted to the alleged report that the 2016 governorship election was rigged to favour him.
Akeredolu, while speaking to Naija News through his Senior Special Assistant on Media and Publicity, Mr Ojo Oyewande debunked the report that 2016 governorship election which brought was rigged for him.
Speaking further Oyewande said the statement made by the former Secretary to State Government, Ifedayo Abegunde was misunderstood by several media.
He revealed that what Abegunde said was that it was not only Aketi that won the 2016 governorship election but the victory at the polls was a collective effort and not a by one person.
He didn't say so, What he said on Crest FM was that it was not only Aketi that won the election but the victory was a collective effort and i dont kwnow where some of our Journalist got there information and interpretation. His resignation has been received by the Governor and we wished him well.
Naija News recalls that Abegunde had on Monday morning tendered his resignation following a cold war between him and Governor Akeredolu.
He opened up on his resignation and issues between him and the governor in on a programme on Crest 87.7 Fm.
The former SSG said "Akeredolu did not win the election in 2016 but we made it possible for him to become governor."We were the pillars behind him but we will not support him again. He will lose this time around."The government of Akeredolu is making the entire people of the state to suffer and I cannot be part of that any longer.
"Everyone is suffering. He does not pay salaries at the right time."As a matter of fact, Akeredolu has not performed to the expectations of the masses apart from the roads he is building."