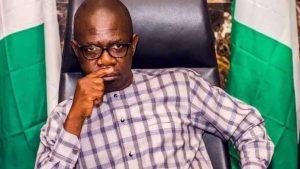 The Ondo state deputy Governor, Honourable Agboola Ajayi has reacted to the allegation that he manipulated the list of Ad hoc delegates.
Speaking via his Chief Press Secretary via a Press Statement made available to Naija News Agboola Ajayi vehemently dissociated himself from the doctored list being complained about by some members of the People's Democratic Party(PDP).
Agboola Ajayi said that it is impossible for him to have influenced the 'doctored' list if it exists at all because he is not a member of the National Working Committee(NWC) of the PDP . He also revealed that it is the National leadership of PDP that sent a committee to see to the conduct of delegate election and they are the custodian of the list and not the Deputy Governor.
Any complaint about the list of delegates should be channelled to the appropriate quarter instead of blaming the Deputy Governor.
Agboola Ajayi also said that he is not desperate for the ticket of the party. Anything to the contrary is mischief and attempt to play to hands of the opposition ahead of the election.