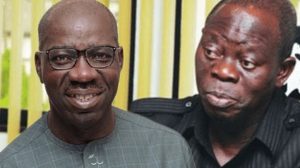 Andrew Momodu, a former aide to the former Governor of Edo State, Adams Oshiomhole, has pledged the sum of N5 million to the re-election bid of Governor Godwin Obaseki.
Naija News reports that Obaseki is the candidate of the Peoples Democratic Party (PDP) in the September 19, 2020 Governorship election in Edo State.
Momodu made the N5 million pledge on behalf of Anwan Progressives Union (APU) on Tuesday at the State PDP Governorship Campaign at Ward 8 in Anwan Community, Etsako West Local Government Area of the State.
He vowed to mobilized 6000 votes from the Community for PDP in the forthcoming poll.
Speaking during the event, Governor Obaseki promised to reciprocate the kindness that was displayed by the people by prioritising healthcare, Education and agriculture in the second term of his administration if re-elected.
He recalled the sterling qualities of the famous Alhaji Jah Osman who hailed from Anwan and assured that Agbede-Anwan road construction work which was suspended by the expatriate over COVID-19 pandemic, would be completed soon.