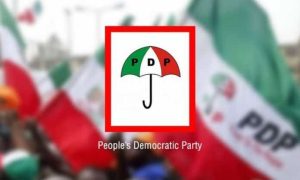 The Ekiti State chapter of the Peoples Democratic Party had a disagreement on Monday over a viral video where some members loyal to the former governor of the state, Ayodele Fayose, were spotted swearing to an oath.
The meeting of ward leaders and executives in the Ijero local government area, saw the attendees take an oath to vow to be loyal to Fayose and promised not to betray him.
The meeting had in attendance the former state PDP Chairman, Chief Bola Olu-Ojo; former House of Assembly member, Akinleye Ekundayo; and Mr Mike Adeosun.
A source in the party revealed that the oath was taken to prevent some of the members from shifting their support from Fayose to Senator Biodun Olujimi.
The party has been experiencing some crisis over who the true leader of the party is with some members supporting the former state Governor and other submitting to Senate Olujimi.
The former chairman of the party in the state, Olu-Ojo, while speaking said, "It was not oath-taking, but an affirmation of loyalty to our leader, Fayose."
"There was nothing secret. It was an open meeting. It was not oath-taking because, in the course of activities, there was no Bible, Quran, iron, blood or any other object to swear with."
Fayose while reacting to the development through his media aide, Lere Olayinka, said, "There was no oath-taking anywhere. Did you see Fayose in that video? Did you see any object like the Bible, the Quran or iron? If no, how does that amount to oath-taking?"