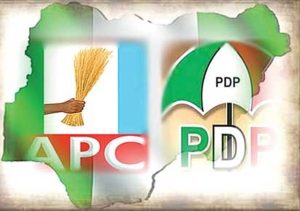 The Abia State chapter of the Peoples Democratic Party, PDP has claimed that it received to its party in numbers no fewer than 3000 members of the ruling party, All Progressive Congress and All Progressives Grand Alliance.
Speaking on the development, the state chairman of the PDP, Rt Hon Asiforo Okere, said the new members came from different LGAs across the state and declared their allegiance to the Nigeria opposition party.
Naija News understands that Okere disclosed this in his address at the stakeholders meeting in Umuahia.
"The hallmark of that was our harvest of not less than 2,000 opposition members particularly of APC and APGA across the state," said Okere while giving an account of the recent tour of Abia LGAs.
He added that the party rebuilt the confidence of its members and strengthened their tiers of unity.
On his part, Governor Okezie Ikpeazu congratulated members of the party on the successful completion of the December local government elections in the state. He assured that government will guard itself against any form of distraction from the opposition who, according to him, is bent on luring him into political arguments to the detriment of the ongoing development in the state.
"Abia is a PDP state and the other party has nothing to offer our people now or in future, hence, they resort to the propaganda of defection," said the governor while briefing the party members on ongoing projects of his administration, assuring that he intends to complete all projects before 2023.
He added: "our people know that they are better off with PDP and will never agree to return to the dark days represented by those now masquerading as APC leaders.
"We know their pedigree and footprints in this state and when it is time I will challenge them to come forward and show the people of the state what they have done for them both in the past and present," governor Ikpeazue concluded.
Meanwhile, the Peoples Democratic Party (PDP), Lagos State chapter, has backed Governor Seyi Makinde of Oyo State as leader of the opposition party in the south-west region.
Naija News reports that the Chief Press Secretary to Makinde, Taiwo Adisa, made this known in a statement.