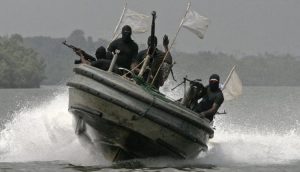 The Chinese Foreign Ministry announced on Monday, July 6 that five Chinese sailors were kidnapped aboard a container ship in Nigerian waters.
"On July 2, a cargo ship sailing under the flag of Singapore was attacked by pirates off the coast of Nigeria and five Chinese sailors were kidnapped, " said Chinese diplomats, who reassured that " the Chinese embassy in Nigeria places the emergency procedures and asks Abuja to take the necessary measures to find his nationals. "
No Nigerian official has yet commented on this news. According to the seas watchdog company Dryad Global, the attack had taken place off Benin, presumably by Nigerian pirates. Two weeks ago, six South Korean sailors were kidnapped in Beninese waters.
Since the start of the year, at least 78 kidnappings for ransom have taken place in the Gulf of Guinea, which stretches from Liberia to Gabon.