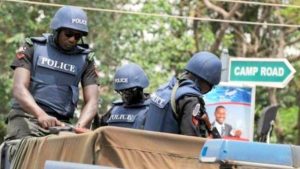 The leader of the Coalition of Northern Groups, Nastura Ashir Sharif, has been arrested by the Nigeria police over the protest against President Muhammadu Buhari and the Kastina State governor, Aminu Masari.
Sharif on Tuesday led the protest against the President and state governor over bandits attacks and killings.
CNG in a statement released on its Facebook page revealed that Sharif was arrested and taken to Abuja after the protests.
It said the CNG Board of Trustees chairman "is currently being detained at the Nigeria Police Force HQ, Abuja. He is against the killing of helpless citizens by bandits".
A source revealed that Sharif was taken from Katsina to Abuja by the State Commissioner of Police.
He said the Police boss told the youth leader "that the Inspector General wanted to see him in Abuja and they went together".
"After reaching Abuja they detained him in their headquarters", he revealed.
The protesters during the peaceful march had called on President Buhari and Governor Masari to resign.
Recall that the state governor had earlier admitted that he has failed the people of Katsina state due to banditry attacks in the state.