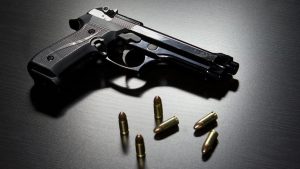 An officer of the Nigerian Police Force, Inspector Yemi Ojumoola, has landed in trouble for allegedly threatening motorist with his service pistol.
According to reports, the officer is now in detention for allegedly bringing out his pistol while engaging in a traffic argument with a motorist in Ibadan, the capital city of Oyo State.
Speaking with newsmen on Tuesday, the State Police Public Relations Officer, Bala Elkana, said that the state Commissioner of Police, Hakeem Odumosu, ordered that Ojumoola should be detained and face investigation while the command decides his fate with the force.
Elkana reveals that the Inspector was caught on video engaging in a tough argument with a motorist over traffic issues. He noted that the motorist's wife had confronted the officer, asking if he wanted to kill her husband with the gun.
Ojumoola, however, seeing that the woman was covering the event with her mobile phone, collected the phone and smashed it to the ground.
On his part, Ojumoola narrated to reporters that he had no intention of shooting anyone, that he only wanted to scare the motorist. According to him, for the past twenty-eight years of service with the Police force, he had never gone beyond his limits.
Naija News understands that the Inspector was attached to the Raiders' Unit of the State Criminal Investigation and Intelligence Department, Panti, Yaba.
"The CP has ordered his (Ojumoola) arrest and detention. He will be tried in an orderly room trial. The result of the trial will be made public," said PPRO Elkana.
Meanwhile, the Inspector-General of Police, Mohammed Adamu, has ordered the deployment of new police commissioners for Ekiti, Ogun, Cross River, and Bayelsa states.